About Us
The Genes2Me CoviEasy test "At Home" Self-Testing Kit is a simple solution for Covid-19 diagnosis. It offers results within 8-10 minutes from the convenience of your home. In addition, CoviEasy has received ICMR authorization for self-testing without the need to visit a diagnostic laboratory to give samples.
CoviEasy is an easy Self-Testing solution with which you can test yourself for COVID-19 anywhere, anytime, and at any place. The test is suitable for all individuals who have any COVID related symptoms. It is an In-vitro diagnostic testing procedure for detecting COVID-19 antigen through nasal swab samples and getting results on your phone. CoviEasy can detect all the known variants of COVID-19 such as Alpha, beta, delta, gamma, lambda, mu and omicron.
CoviEasy uses a Breakthrough AI interface that guides the User onto steps to conduct the test and further displays the test result back to a user's phone. With the App, you shall be able to generate your COVID-19 test Report with QR-Code which shall also be shared with ICMR.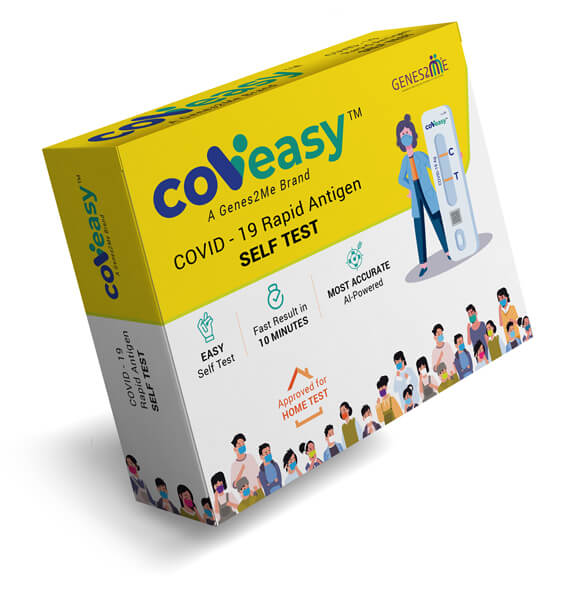 Components inside the CoviEasy Kit
When you open the kit, you will find
A pre-filled Buffer Tube
Sterile nasal swab
Test Device
Biohazard bag
Instruction Manual, which will help you walk you through the process step by step.
Interpreting the Results
Positive Test: If both the quality control line "C" and the Test line "T" appear, it means the result is positive.
Negative Test: If there is only a quality control line "C" and no Test line "T", it indicates that the result is negative.
Other Diagnostic Test for SARS-CoV-2
Apart from a Self-Testing kit for COVID-19, Genes2Me offers diverse range of Diagnostic Services to support the fight against Covid-19 as following:
COVID-19 Antibody test: A COVID-19 antibody test is a screening tool for Coronavirus antibodies in your blood. When you have a SARS-CoV-2 infection, the body makes antibodies to fight the infection. The same thing happens when you take a vaccine.
COVID-19 antibody test determines whether your body has developed antibodies or not or you have been exposed to the coronavirus recently.
RT PCR Test: Individuals exhibiting symptoms for COVID-19 or coming in close contact with infected individuals should get tested. The test results are highly accurate and aid in preventing the transmission of the coronavirus.
COVID-19 monitoring profile: The COVID-19 monitoring profile is a blood test that analyses your body's significant biomarkers to evaluate if all your body's vital organs are functioning properly. This test is used if you are currently suffering or have recently recovered from Covid-19 infection.